Fresh, dynamic, resourceful. Tami applies her creativity through the use of a variety of unconventional materials resulting in the unique style of her art. Her use of rich color combined with her spontaneous brush stroke technique grabs you at first glance. Once her paintings are complete, she sometimes incorporates them with vintage architectural salvage from the New Orleans area.

Most of Tami's work is based on the rich history, music, culture and nature of Louisiana that she has spent a lifetime learning and loving. Represented in galleries across Southern Louisiana, Mississippi, North Carolina, Illinois, and Alabama, her work is now owned by patrons from New York to California.

A native of Louisiana, Tami attended Louisiana Tech University in Ruston, LA where she received her BA in art education and a BFA in graphic design. She has taught art in the public school system and in private institutions, served as the education coordinator for the New Orleans Museum of Art, and has owned art based businesses involving pottery, hand-painted fabric items, art licensing and two dimensional art.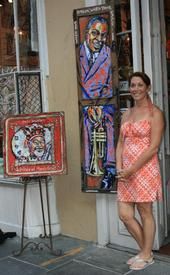 Tami currently resides in Covington, La with her husband, Steve. Her three adult children are actively pursuing fields in art, engineering, and music. Also, this year, Tami's family welcomed her first grand daughter with great joy and excitement!

"All the time, energy, and inspiration in my artwork are blessings from God. Art itself is a mirror of God's gifts of family, friends, nature and culture. I thank Him for this journey and joyously give Him the credit for what I create."